Dear Friends,
Firstly a big thanks to everyone who responded to our Survey. We will be following this up in the next few weeks.
Please take some time to have a look at our latest Newsletter below. We have a new article on the "Big Sell Off" of our NHS community health services, questions for candidates in the local elections plus details of our next Campaign Meeting and some good reading.
Secretary, Ealing Save Our NHS (ESON)
Shocking Plans for huge "sell off" of community services:
On a scale unlike anywhere else, Ealing's health bosses intend to contract out most of the services they run. The Contract will last for 10 years and is
worth half a billion pounds but possibly increasing up to £1.2 billion of our NHS money. It's
under offer to private health companies or any NHS management team. Whoever wins, it's a type of privatisation on a massive scale.
Ealing Clinical Commissioning Group ( Ealing's health bosses) want to award this 10-year contract to a single provider, who would run all community health services, and some social care too. Community nursing, palliative care, diabetes, mental health and specialist children's nursing, are just a few of the services up for grabs. The contractor would be expected to develop these services so that they can somehow 'substitute' for hospital beds – something that has never worked anywhere in the world.
On our website we now have some 'Questions to Candidates' which aim to find out where candidates and their parties stand on the Big 'sell off' of Ealing's NHS and on the Future of Ealing Hospital. We hope you can use them when you next meet any candidates or in other places -
https://www.ealingsaveournhs.org.uk/2018/04/questions-to-candidates-in-the-ealing-council-elections-3rd-may-2018/
A poster for your window or a car sticker:
Lots of people replying to our Survey said they would like a poster for their window so here it is below and a copy is attached. If you would like us to drop off a poster please send us your address.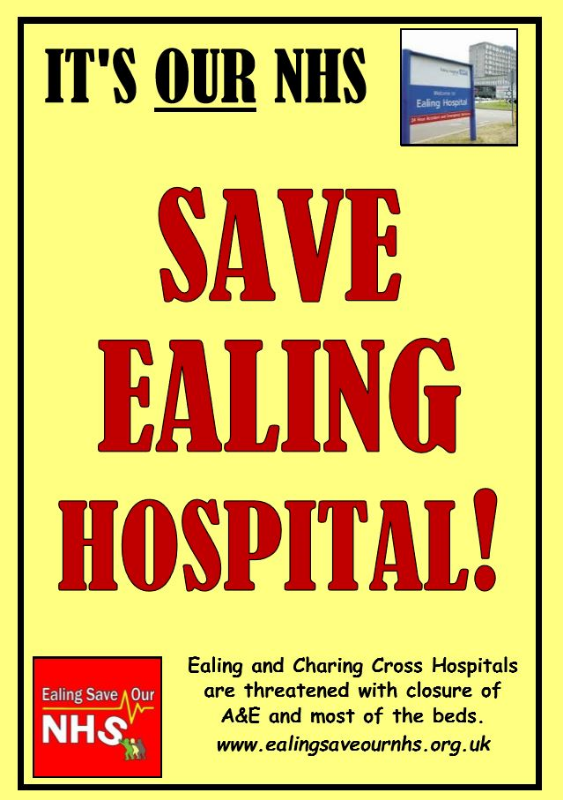 Every car in Ealing should have one!
As well as showing your support it also makes it easier to find your car in a car park! If you want to brighten up your car with our sticker and fly the flag please get in touch.
Ealing Street Stall Saturday 28th April:
We will be in Ealing Broadway (Marks & Spencers) on the 28th from 11.00-1.00pm with leaflets, petitions and our Questions for Candidates. If you can spare a little bit of time to help it would be lovely to see you.
CAMPAIGN MEETING TUESDAY 17TH APRIL- All welcome
This month we are delighted to be joined by Merril Hammer & Jim Grearly
from our sister campaign, Save Our Hospitals
(Hammersmith & Charing Cross) who will be giving us an update on the campaign to save the A&E and beds at Charing X Hospital.

We would love to see more people get involved, so new people are very welcome to our friendly meeting on the 17th at

7.30pm, Northfields Community Centre,

71a Northcroft Road, Ealing W13

9SS. Tea and Coffee provided



Some other worthwhile reading:

Current Issues for the delivery of health care in Hammersmith & Fulham:
Eric Leach, Researcher and Ealing Save Our NHS Vice Chair produces an excellent Newsletter with in-depth analysis and information on the NHS Crisis and social care. This can now can now be found in our website 'Library' including all back copies. The latest issue has some great facts and figures on the Single Contract and more...



https://www.ealingsaveournhs.org.uk/category/our-nhs-in-crisis/

Thanks for reading our Newsletter and you can also find us on Facebook and Twitter- links below.