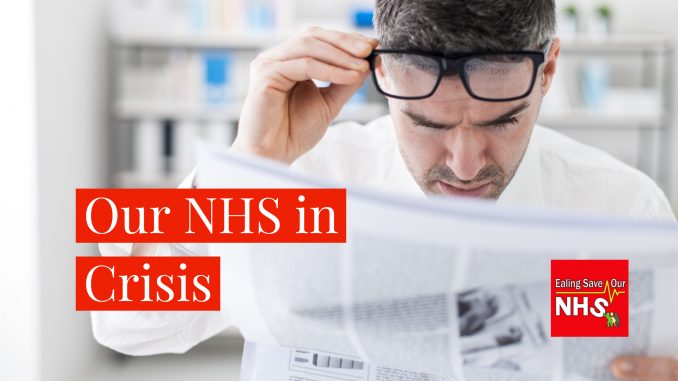 Why are there More Than Double the Number of Non-Elective Admissions to Hospitals of Ealing Patients than Westminster Patients?
Issue: 74
1 February 2019
In the 'Financial Times' on 31 December 2018, the article 'Poor have worse access to GP services' quoted research that Emergency admissions to hospital were nearly 30% higher in the most deprived areas in England compared with the least deprived areas. The research data was complied by the think tank Nuffield Trust.
The Department of Health and Social Care has just published the Annual Report by the Chief Medical Officer (CMO). In it she reveals that the most deprived children and young people are 60% – 70% more likely to go to A&E than the least deprived. Also a recent report by Dr Foster reports that 70% of High Intensity Users (HIUs) of A&E live in more deprived areas. It states the proportion of HIUs that live in areas in the most deprived decile is around 21.9% compared with around 12.9% for other users of A&E.
Research by retired Medical Physicist Tony Brewer has revealed that big inequalities in hospital Non-Elective admissions are to be found in NHS North West London. (Non-Elective admissions (NELs) are those which have not been arranged in advance. NELs may be Emergency admissions, maternity admissions or transfers from hospital beds in other health care providers).
In 2015/16 there were more than twice the number of Ealing patient NELs compared to Westminster patients. Of the 426,086 patients registered with Ealing's 79 GP surgeries, 31,726 of them were NEL admissions to hospitals. Of the 177,950 patients registered with 25 Westminster GP surgeries, there were 6,286 NEL admissions.
NHS England employs a technique of 'Weighted' GP patient list numbers using the Carr Hill Formula. This weighting takes into consideration patients' age, gender and health conditions and calculates a weighted count of patients according to need.
Calculated as NELs per 1,000 weighted registered patients, Ealing scored 74.46 whilst Westminster scored 35.32. Admittedly there are only 25 GP surgeries (out of a total of 35) in Westminster included, because there were fewer than 50 NELs or less than 500 registered patients at 10 surgeries.
Further research is underway to expose the inequalities of NELs which occur across Ealing. All this research is using NHS data obtained through Freedom of Information requests.
It would be helpful to discover why these inequalities exist. Possible reasons include:
+ Availability of /access to GPs
+ Differing rates and consequences of Do Not Attend (DNA)
+ Levels of Deprivation
+ Ethnicity
+ Public health factors, including diet
+ Are rich people healthier than poor people?
+ Proximity to Heathrow Airport
+ Use of private hospitals.
London North West University Healthcare NHS Trust (LNWUHT) Attracts Publicity For All the Wrong Reasons
The NHS Trust which runs Ealing Hospital – LNWUHT – scored very poorly in three recent national research surveys:
100% Bed Occupancy
In December 2018, the Trust was one of only two in England which recorded 100% bed occupancy. 95% bed occupancy is the generally accepted safe level.
Did Not Attend
Patients using the Trust hospitals were the worst in England for not turning up for appointments.
Junior Doctors
'Health Service Journal' recently published the results of the first national survey of Junior Doctors, following the introduction of the controversial Junior Doctors contract. Junior Doctors are allowed to file a report when they work beyond their contracted hours or work without breaks, as well as other contract breaches. NHS Trusts can be fined for such breaches. The reports are called 'Exception Reports'. LNWUHT reported the highest number of Exception Reports submitted in England – 25,690 of them by 440 Junior Doctors since 2016.
West London NHS Trust is Amongst 29 NHS Mental Health Trusts Failing to Publish 18 Week Refer To Treatment (RTT) Performance Data
When a GP refers a patient to an NHS Trust consultant-led service for diagnosis, the legal maximum waiting time for the first appointment – as stated in the NHS Constitution – is 18 weeks. This applies to non-urgent referrals for all physical or mental health conditions. All NHS Trusts and all independent providers who provide services by contract with the NHS are legally obliged to record 'Referral-to-Treatment (RTT) statistics, so that compliance with the 18 week target, and zero tolerance of RTT waiting times over 52 weeks, can be monitored.
Acton based researcher Victor Leser has examined the reported RTT figures for the last complete year. For the month of March 2018, there appear to be 37 NHS Trusts which did not supply/publish the RTT statistics that are legally required. Of the Trusts, 29 mainly provide mental health services, 6 mainly Acute services and 2 are health and care Trusts.
One of the mental health Trusts failing to publish RTT data is West London NHS Trust, which provides mental health services for Ealing residents. Anecdotally Ealing mental health service users and carers were told in 2018 that RTT waiting times would be measured in months or even years. This on the face of it is as scandalous as is the Trust not documenting these RTT waiting times.
Accountable Care Organisation (ACO) Contract Judicial Review  Appeal is Turned Down – but Campaigners Will Fight On to The Supreme Court.
The Court of Appeal ruled in November 2018 against the '999callforNHS' Judicial Review (JR) claim that the Government's ACO contract is illegal. The campaigning group's JR was initially unsuccessful in the High Court in April 2018. The group now intends to pursue the case in the Supreme Court. For more details see:
Collaboration of NHS North West London (NWL) CCGs
The Collaboration of the eight NHS NWL Clinical Commissioning Groups (CCGs) is a non-statutory body which acts as a cheer leader for the ailing 2012 NHS NWL 'Shaping a Healthier Future' (SaHF) project. Rumours abound about financial problems afflicting three of these collaborating CCGs. Harrow CCG is, apparently, soon to enter 'Special Measures'. Hammersmith & Fulham CCG is suffering a £28 million shortfall largely because of one GP surgery adding 30,000 + new on-line 'GP at Hand' patients. Ealing CCG's £4.8 million A&E costs' shortfall have just come to light.
The Collaboration's attempts to gain £millions to implement the NHS NWL 2012 SaHF plan and destroy Ealing Hospital as a District General/Major Hospital seem to have come to an end. The Collaboration's supremo Mark Easton told the public on 24 January 2019 that any cash it might receive for building work would be for maintenance not for 'transformation'.