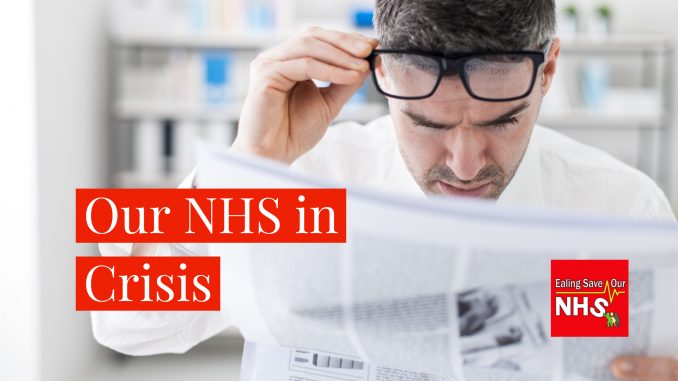 Issue: 70
1 September 2018
This occasional newsletter is researched, written and edited by a group of concerned residents in Ealing, West London who want to preserve our NHS. We view the wholesale engagement of private, for-profit healthcare service suppliers as unnecessary, profligate and dangerous. Increased financial funding is what is needed in our NHS – not financial cuts, closure of vital services or privatisation.
Ealing Out Of Hospital (OOH) Services Single Supplier 2019 – 2028
The bidding process for a minimum of £450 millions' worth of work formally ended on 23 August 2018. We are now in the bid evaluation phase with the outcome to be announced at the end of October 2018. There are currently lots of rumours flying around about Virgin Care bidding and then not bidding. If Virgin Care decided not to bid it does seem strange that it should showcase its OOH credentials at a public meeting in Ealing Town Hall on 17 August 2018 (see below).
One organisation we know will not be awarded the contract is NHS LNWUHT, our local Trust which runs Ealing Hospital. On 29 August 2018 'The Pulse' magazine quoted from a letter sent to 800 LNWUHT staff which stated that the money on offer in the Invitation To Tender would not allow the Trust to provide 'the required quality of care'. So LNWUHT declined to submit a bid.
The question must be asked if one NHS Trust evaluates that there's not enough money of offer to do the job properly, how could any other Trust come up with a different evaluation?
Accountable/Integrated Care Public Consultation is Underway – But Predictably It's Not Straightforward
We all have until 26 October 2018 to comment on the draft Integrated Care Provider (ICP) contract. There are three draft Integrated Care Provider contract documents to review. In total there are 227 legal pages to peruse. These are legal draft contracts. It is virtually impossible for a lay person to figure out what these pages actually mean. This is way too much for the general public to deal with. This is an absurd public consultation. It is akin to asking end users of a new computer system to review it by giving them the machine code of the software programmes. Over and above this there is a plethora of supporting documents numbering up to 316 pages. In total there are 543 pages of material to review.
NHS England has provided us all with a set of consultation questions to answer, which could hardly be described as being unbiased. There's also a questionnaire to fill in which again is 'directed' and is really quite long.
View this massive consultation library at:
www.engage.england.nhs.uk/consultation/proposed-contracting-arrangements-for-icps
There are consultation events in London, but you have to register to attend them, and we currently don't know the venues:
11 September, 10:30am to 12:30pm.
www.events.england.nhs.uk/events/consultation-on-contracting-arrangements-for-integrated-care-providers-icps-34140
11 September, 2:00pm to 4:00pm
www.events.england.nhs.uk/events/consultation-on-contracting-arrangements-for-integrated-care-providers-icps-34144
Court of Appeal Grants Permission to Appeal Against Judicial Review Decision Legitimising NHSE's New Integrated Care Provider Contract
In April 2018 The High Court ruled against a Judicial Review (JR) application by 999 Save the NHS which sought to question the legality of  NHSE's Accountable Care (subsequently renamed Integrated Care) contracts and so-called 'Whole Population Budgets'. 999 Save the NHS decided to appeal against this ruling. On 18 August 2018 it was announced that the Court of Appeal had granted 999 Save the NHS leave to appeal the April judgement. Apparently all seven JR grounds will be reviewed.
This is an enormous embarrassment for the Government. Success in the Court of Appeal could completely invalidate the public consultation on the Integrated Care Providers contract – as the contract itself may not be legally valid.
Over 60 People Demonstrate Against Virgin Care Outside Virgin's Out of Hospital Services Sales Presentation
On 17 August 2018 Virgin Care presented its Out of Hospital services credentials at a public meeting in Ealing Town Hall. Outside the Town Hall some 60 people noisily protested about the possibility of Virgin Care providing any NHS services in Ealing. Speakers at the demo included Central Ealing and Acton MP Rupa Huq and Ealing Council Leader Julian Bell. The demo was organised by Ealing Save Our NHS. Virgin Care is one of the organisations rumoured to be bidding to run initially 36 care services in Ealing, commencing in May 2019. It's a 10 year contract which is worth between £450 million and £1.2 billion – with ultimately up to 60 care services to be run by a single supplier.
It did seem odd that Virgin would do this presentation during the bidding process. Even odder was the fact that the presentation was 'hosted' by Ealing Community Voluntary Service (ECVS). Incompetently Virgin Care attempted to run this ECVS hosted event initially on 31 July 2018. Virgin Care pulled out of the event at 3 hours notice, but failed to tell all those people registered to attend. Those who turned up to find the event cancelled were none too pleased. I do find it hard to think that a company which can't even run (and cancel) a sales pitch to the public in a competent fashion could be trusted to run over £1 billion OOH Services for 360,000 people for 10 years.
Ealing GP Federation Isn't Keen to Discuss Local, Regional and National Care Transformations with Ealing Save Our NHS
Ealing GP Federation, formed in 2014, describes itself as 'representing all 76 practices'. (There are some 200 GPs operating in Ealing). Since the launch of  NHS North West London's (NWL's) 'Shaping a Healthier Future' (SaHF) programme in 2012, there have been many care service changes proposed and implemented which directly affect Ealing residents. NHS NWL's 2016 Sustainability and Transformation Plan (STP) and more recently Ealing CCG's plans for a single supplier of Out of Hospital Services are having and will have profound impacts on care services.
On 9 July and on 13 August 2018, Ealing Save Our NHS (ESON) wrote to the federation requesting a meeting to discuss the issues raised by SaHF, STP and the Ealing OOH contract. The federation failed to reply to either of these letters until 21 August. Even though I'd spelt out in detail who we were and why we wanted to meet, the federation asked me to repeat all this. It's inconceivable that the federation does not have opinions and policies relating to these transformation issues. Why would it not want to share its views with ESON or in fact with Ealing patients? The federation's web site provides no information on its stance on these issues. The federation is not a statutory body and is a private company. It would be fruitless to submit Freedom of Information requests as the federation would have no legal liability to respond.
On the OOH Services front, the federation's web site ( www.ealinggp.com) contains an undated news story stating that it has been 'commissioned' to take on 18 OOH services'. How this relates to the ECCG's beauty contest to find a single supplier of 36 OOH Services is by no means clear.
ESON finally received a letter from the federation on 29 August 2018 in which it declined to meet ESON. The federation's CEO stated that they were 'an organization that wants to work collaboratively with partner organizations to try and facilitate excellence in local healthcare, but can't directly influence commissioner's decisions'. It does seem odd to refer to 'commissioning' as the federation is not 'commissioned' by any statutory body (i.e. not NHSE, ECCG or the Local Authority). It's a private company whose shareholders are the 76 GP practices in Ealing. The federation clearly does not want to work with ESON.
Greater Manchester (GM) Care Devolution Stalling – Non-Elective Admissions Rising Not Falling
Greater Manchester's efforts to reduce demand for Acute services (especially Non-Elective Admissions – NELs) are failing. According to 'Health Service Journal' in August 2018 NELs have consistently risen since the GM care devolution deal in 2016/17. The £450 million 'transformation fund' financial support doesn't seem to have been much help.
The increase in NELs is a national and regional trend. In NHS North West London (NWL) increases in NELs have consistently frustrated any attempts to breathe life into the 2012 NHS NWL's 'Shaping a Healthier Future' programme and the 2016 NHS NWL Sustainability and Transformation Plan.