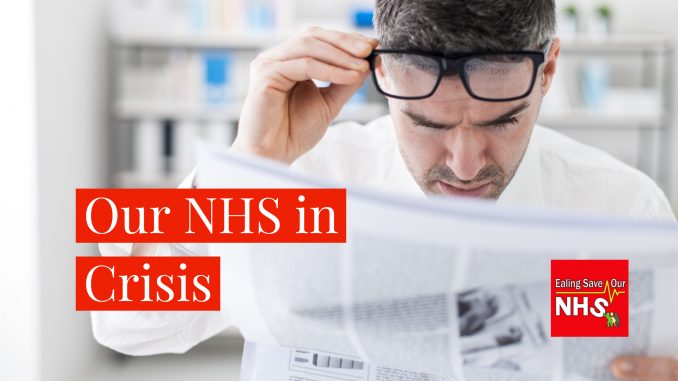 Issue: 69
1 August 2018
Who Might Have Bid for the Single Supplier Up to £1.2 Billion Ealing Out Of Hospital (OOH) Services Contract?
Rumour has it that the bidders will have included:
+ Central London Community NHS Healthcare Trust
+ Hillingdon Hospitals NHS Foundation Trust
+ London North West University Healthcare NHS Trust
+ West London Mental Health NHS Trust
+ Virgin Care
Deadline for submitting an intention to bid was 19 July 2018.
All Attempts to Improve Access to Treatment for the Seriously Ill and Critically Injured (Type 1) in North West London (NWL) Have Failed
In April 2014 healthcare researcher Colin Standfield began collecting and collating A&E performance data at the NWL hospitals. In that month the performance for Type1 A&E patients against the 4 hour target was 88%. Clearly below the 95% target. The latest NWL A&E performance figures (June 2018) are at 80% – so no improvement in over four years. At no time since August 2014 has that figure exceeded 90%. Hillingdon Hospital continues to have the worst performing A&E unit in England at 59%.
In summer 2012, NHS NWL's 'Shaping a Healthier Future' (SaHF) programme promised us 'improved care, both in hospitals and in the community'. Some six years later this promise to the seriously ill and critically injured has not been kept. The original SaHF Medical Director has been long gone from the project. Of the eight CCG Chairs who signed their name to the SaHF programme, five are still in post. It's surely time for them to publicly apologise for the failure of SaHF and perhaps consider their positions.
In October 2016, NHS NWL published its Sustainability and Transformation Plan (STP). It promised 'to improve the health and wellbeing of our residents'. This promise to the seriously ill and critically injured has not been met. Of the five STP sponsors, three have already resigned. Maybe it's time for the other two to remove themselves as well.
Expansion of 'GP at Hand' Online Service Blocked by CCGs
On 17 July 2018, Hammersmith & Fulham Clinical Commissioning Group (CCG) formally objected to the expanded use of the 'GP at Hand' Smartphone consultation service. Patient safety was the CCG's concern. This service, launched in 2017 by Babylon, allows for Smartphone based 24/7 consultation services. One of the conditions to signing up to the services is that you immediately transfer to the GP surgery hosting the service. The launch GP surgery was Dr Jeffries in Fulham. Over 30,000 have signed up for the service which now boasts five London GP surgery sites.
Attempts to expand the service to Birmingham have been thwarted. Birmingham & Solihull CCG has raised concerns about Birmingham GP patients being registered at a GP surgery outside of Birmingham. NHS England (NHSE) also raised concerns in November 2017 when the service expanded to five sites across London. Ipsos Mori is currently conducting an independent evaluation of GP at Hand, which has been commissioned by Hammersmith & Fulham CCG and NHSE.
As 'Private Eye' recently pointed out, GP at Hand's privacy policy clearly states that it may take users' data to share with third parties. This smacks more of being a transparency policy.
Referral Facilitation Services – the Future for Healthcare 'Demand Management'?
A member of my family, who has had countless ear infections over many years, recently asked his GP to see a consultant. Weeks later he received a letter from the 'Ealing Referral Facilitation Service' (ERFS) granting him an appointment with a consultant on 25 February 2019. This is completely unsatisfactory. The letter itself is a strange beast as it does not bear an NHS logo on it.
Another family member received an ERFS letter telling her that if her referral were to be accepted by West Middlesex Hospital the hospital would contact her. If the hospital did not contact her after a period she should contact them .All attempts to get through on the phone to the hospital have so far failed. Months later she gets a letter from the hospital giving her an appointment date.
My surgery's Patient Participation Group has attempted to explain how the ERFS works in its current newsletter to patients. The description makes no mention that the ERFS might turn down the GP's request for a consultant appointment. It also states that a hospital will contact the patient with appointment details. My family knows that this contact might takes weeks or months to be made.
It's clear from anecdotal evidence that there is no consistency in the way the ERFS works. For some patients, the ERFS does not make it easy for them to exercise 'patient choice' as to which hospital they want to be referred.
It almost beggars belief that two GP members of the Ealing CCG Governing Body are also paid Clinical Assessors for the ERFS. So not only do these two receive fees from Ealing CCG as Ealing GPs they also get paid for double guessing their GP peers in Ealing on GP patient referrals to consultants. This is conflict of interest on steroids!
I can find no description of ERFS on any NHS web site. Google can't find one either. Apparently the ERFS is an outsourced operation run by a private company. Ealing CCG accounts state it cost £849,000 to run ERFS last year.
What's Happening on the Accountable Care/Integrated Care Front?
When Secretary of State Hunt was confronted with the JR4NHS legal challenge on Accountable Care Organisations in February 2018, he conceded that there had been no public consultation on the issue of Accountable Care Organisations. He said no Accountable Care Systems' (ICSs') contracts would be signed until after a 12 week public consultation. Well, the JR4NHS Judicial Review has been and gone but there is no sign of any ACS (now ICS) public consultation. Could it be that as the JR judge found  the Health & Social Care Act 2012 gave very broad discretion to CCGs when commissioning services? Maybe this means no new ACO/ICS Government legislation is needed and perhaps no consultation. It could be that as the other major ACO JR – 999 Call For NHS – is appealing its rejection, the way is still blocked for ICS progress.
It's clear that ICS contracts for front-runner ICSs in Dudley and Greater Manchester have not been signed. NHS England web pages on ICSs have been unchanged since May 2018.
The High Court Overturns £104 Million Virgin Care Contract for Public Health Services in Lancashire
'Health Service Journal' has reported that on 22 June 2018 the High Court found in favour of two NHS Trusts in their action against Lancashire County Council. (LCC). Lancashire Care and Blackpool Teaching Hospital Foundation Trusts took LCC to court after LCC awarded a five year contract for school nursing and health visiting to Virgin Care. The Trusts claimed that LCC's bid evaluation process was deficient. The judge found LCC's records of moderation processes fell short of standards required to evidence reasons for the scores awarded to the bidders.
This occasional newsletter is researched, written and edited by a group of concerned residents in Ealing, West London who want to preserve our NHS. We view the wholesale engagement of private, for-profit healthcare service suppliers as unnecessary, profligate and dangerous. Increased financial funding is what is needed in our NHS – not financial cuts, closure of vital services or privatisation.